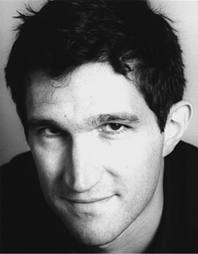 Bohdan "Bo" Poraj-Pstrokonski (born 1973) is a English actor whose career spans film, television and theater.  He is well know for playing Michael Jackford a local news reporter and Miranda's boyfriend in the sit-com Miranda.
Early Life
Edit
Bo was born in England, UK in 1973. His parents are both Poles and where living in England when he was born. His name "Bohdan" might be translated as "gift of God" in ancient Polish. He trained at the Royal Academy of Dramatic Arts (RADA).
Television, Theatre and Film
Edit
Bo has appeared in various roles within Theatre, Film and Television:
In 1998, He acted in William Shakespeare's play, "Much Ado About Nothing," at the Playhouse Theatre in London, England.
In 1999, He acted in William Shakespeare's play, "Hamlet," at the Bristol Old Vic Theatre in Bristol, England.
In 2002, He acted in Christopher Marlowe's play, "Doctor Faustus," at the Young Vic Theatre in London, England.
In 2001, He acted in Tennessee Williams' play, "Stairs to the Roof," in a Chichester Festival Production at the Minerva Studio Theatre in Chichester, West Sussex, England.
Television

Edit
1996- No Bananas (TV Mini-Series)
2003- Killing Hitler (TV Documentry)
2004- D-Day 6.6.1944 (TV Movie)
2005- The Search for the Northwest Passage (TV Film)
2005- The Inspector Lynley Mysteries 
2004- The Queen of Sheba's Pearls
2006- Alex Rider:Stormbreaker 
2009- The Boat That Rocked 
Ad blocker interference detected!
Wikia is a free-to-use site that makes money from advertising. We have a modified experience for viewers using ad blockers

Wikia is not accessible if you've made further modifications. Remove the custom ad blocker rule(s) and the page will load as expected.