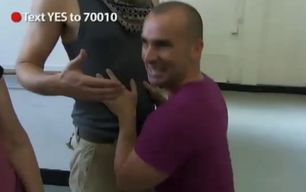 Louie Spence is a famous dancer as seen on real world documentary Pineapple Dance Studios. In the Miranda Universe, Miranda and friends were called to run the dance studios when he was forced to leave. It turned out that Louie had been managing JLS for their performance for Red Nose Day. It is also suggested that a saucy night with Miranda was the reason for why he is gay.
Credibility
Edit
As is known, this mini-episode was a spoof made for Red Nose Day but its credibility and its part within the chronology of the Miranda Universe is unknown. Whether the events mentioned within this mini-episode, including the fact that Miranda had a short relationship with Louie Spence, are up for debate.
Ad blocker interference detected!
Wikia is a free-to-use site that makes money from advertising. We have a modified experience for viewers using ad blockers

Wikia is not accessible if you've made further modifications. Remove the custom ad blocker rule(s) and the page will load as expected.