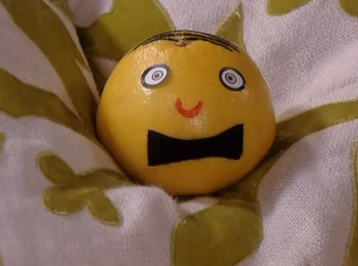 Hello to you!
Unfortunately Miranda isn't around to show you through the Wiki so I, Gordon the Grapefruit, am here to help you instead. Firstly, welcome to Community Corner where all those wishing to help the Wiki come together and chat about what should and shouldn't be included in the Wiki!
Firstly, Miranda Wiki is a Wiki created by fans for fans of Miranda and so we are not affiliated in any way with the BBC. This is a collection of information, which is why we are sometimes picky with what we allow on our pages and why some information that has been added by your kind selves has to be deleted or edited. If you have any ideas or issues about anything on this Wiki then please click on Talk above this page and chatter away and either the admin or another editor will get back to you as soon as s/he can!
Secondly, if you have an account with Wikia, you may like to turn on "chat", which is something we are trying to introduce and which we are very proud of having. Furthermore edit your user pages so that we can get to know our fans/editors a little more personally!
Finally, have fun! And don't forget to drop by to my page as it's the best page in the Wiki- although I would say that!
See you around!
Gordon
(TheFartyDoctor Talk 16:30, April 25, 2012 (UTC))
Ad blocker interference detected!
Wikia is a free-to-use site that makes money from advertising. We have a modified experience for viewers using ad blockers

Wikia is not accessible if you've made further modifications. Remove the custom ad blocker rule(s) and the page will load as expected.