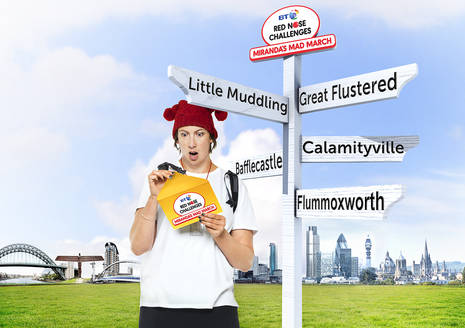 Miranda is about to have a very Mad March: She has one week to complete five frantic challenges, in five cities across England, all for Red Nose Day. Tune in to BBC Radio 2 each morning as the challenges are revealed by Chris Evans, then watch The One Show, on BBC One to see the mayhem unfolding, and Miranda unraveling.
Day 1- Beauty Queen
Edit
Miranda was in Newcastle to try and break the world record for the most armpits waxed in 2 minutes.  
Day 2- 

Strictly Extravaganza

Edit
Day 3- Onesie Direction
Edit
Day 4- The Dog Show
Edit
Day 5- The Wedding
Edit
Ad blocker interference detected!
Wikia is a free-to-use site that makes money from advertising. We have a modified experience for viewers using ad blockers

Wikia is not accessible if you've made further modifications. Remove the custom ad blocker rule(s) and the page will load as expected.