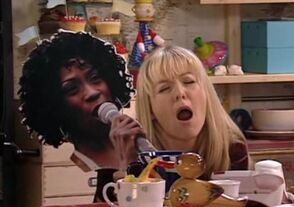 Welcome to Miranda Wiki!
The Community Portal is where this wiki community comes together to organize and discuss projects for the wiki. To see the most recent discussions, click the
Discussion
tab above.
You can find out more general information about the wiki on the About page.
Hello and Welcome to Miranda Wiki!
Edit
I welcome thee to the Miranda Wiki, what a veritable thrill it is to meet you. This is the Wiki dedicated to the best show on Earth... that's Miranda... rude, actually. Here at Miranda Wiki, we love support but we do appreciate it when there are discussions before edits. If you have possible additions to the Wiki or a possible edits then it'd be awesome if you could discuss it on the talk page before going ahead and doing it or contacting the administrator (that is I) here and he (being I) will get back to you asap.
Below, the Wikia has left some rather lovely and extremely useful tips for those budding editors and Miranda enthusiasts amongst you. Please respect other users upon this Wiki (no profanity and no offensive remarks on talk pages) as they are trying to help too.
So it's time for me to be quiet so let's jolly on with the help page,
TheFartyDoctor Talk 13:42, April 25, 2012 (UTC)
Edit:

I'm aware that there's no set "talk" button on the pages and I'm trying to find out why.
In the meanwhile you can access it by getting the address bar and changing it, like this:
I know this is a pain in the bum but it's all I can do until I get an answer from the help wiki.
Thanks for bearing with,
TheFartyDoctor Talk 14:21, April 25, 2012 (UTC)
New to wikis?
Edit
How to help out
Edit
Want to discuss stuff?
Edit
If you want to discuss anything specific to an article, you can use the talk page for that article.
For more general discussions you can use the Discussion tab of this page, or a Forum if the forums have been set up.
Things to do
Edit
Some other interesting pages
Edit
Ad blocker interference detected!
Wikia is a free-to-use site that makes money from advertising. We have a modified experience for viewers using ad blockers

Wikia is not accessible if you've made further modifications. Remove the custom ad blocker rule(s) and the page will load as expected.