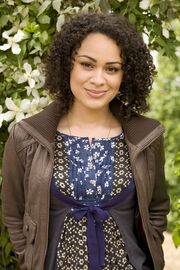 Naomi Bentley is a British actress known for her roles in White Van Man, Primeval, Grownups, Dalziel and Pascoe and Casanova. She appears as Main Character, Rose, in British Sitcom Miranda.
Early Life
Edit
TBA
Fimlography
Edit
In 2005 in Can You Take It? as Dawn
In 2006 in January 2nd as Zoe

In 2007 in The Mark of Cain

 asShelley

In 2007 in Under One Roof as Various Roles
In 2009 in Mid Life Christmas as Deirdre Gumbarton
Television
Edit
In 2004 in Holby City as Steph Holland
In 2004 in Blue Murder as Receptionist
2005

Casanova as Leonilda
2006

Doctors as Zoe Taylor
2005-2006

Dalziel and Pascoe as WPC Maria 'Janet' Jackson

2006

Snuff Box as Beautiful woman

2006

Extras as Linda

"David Bowie"
2006

Goldplated as Naomi Greengrass
2007

Rush Hour

Jogger as Ian's PA

2007

Grownups as Rachel
2007-2011

Ideal

Rainbow
2008

Primeval as Caroline
2008

Mutual Friends as Anita
2008

Silent Witness as Holly Farr

2009

Jonathan Creek

as Mina
2009

New Tricks as Alice Hill
2010

Vexed as Lauren Roberts
2010-2011

My Family

 as Sasha
2011

Casualty as Annie McLean
2011-2012

White Van Man

 as Liz
2012

Love Life as Alex
2012

Vera

 as Laura Deverson
2012

The Poison Tree as Dawn
2013

Miranda as Rose
2013

Great Night Out as Colleen
Ad blocker interference detected!
Wikia is a free-to-use site that makes money from advertising. We have a modified experience for viewers using ad blockers

Wikia is not accessible if you've made further modifications. Remove the custom ad blocker rule(s) and the page will load as expected.