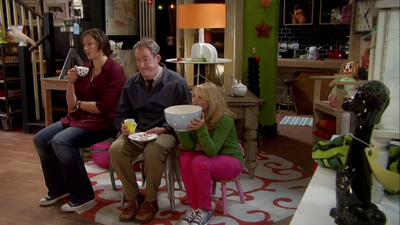 The Joke Shop
is a boutique shop owned by
Miranda
and managed by
Stevie
, her best friend. The shop, based in Bristol, is known for bringing in a variety of customers but when Stevie adds her own section named
Stevie's Corner
, a number of upper-class younger people are brought in, to their horror.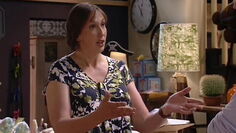 TBA
TBA
In series 3, the Joke Shop closes. TBA
The shop itself is handily located next door to the local café, owned by Gary (then, Clive). Miranda goes to lunch there almost every day to catch up on gossip and to taste Gary's wonderful cooking.
It shares the high street with a baby store, which during a stock mix-up, received their stock of sex toys. This shocked her mother when she went to buy a christening present as she accidentally bought a vibrating rabbit toy.
Miranda likes to think that it is "Joke slash gift" instead of just a joke shop.
Miranda's flat
Edit
Miranda lives in a flat above the shop, which gives her no reason to be late. This generally causes Miranda to come up with terrible lies for her tardiness.