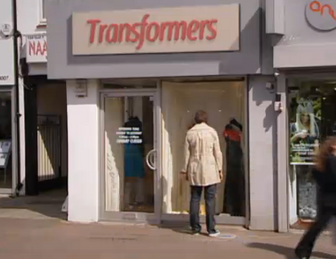 Transformers is a shop, specialised in selling transvesitite costumes/outfits.
Miranda goes to Transformers in search for new clothes for her "Date ". She mistakenly thinks it is a shop which sells women's clothes for bigger or taller than average people, selling "Dress sizes up to 48 Chest" and "shoes to size 14". She gets served by a Shop Assistant who dresses her in a transvestite outfit. 
When she goes back home to the shop, a man thinks she is actually a man trying to look like a woman, and congratulates her on how "feminine" she looks. Miranda throws him out of the shop. Then Gary walks in and Miranda has to pretend she's wearing the joke shop's "new range of transvestite outfits".
Ad blocker interference detected!
Wikia is a free-to-use site that makes money from advertising. We have a modified experience for viewers using ad blockers

Wikia is not accessible if you've made further modifications. Remove the custom ad blocker rule(s) and the page will load as expected.